Mine accident: squashed Oka
dandjcr

Topic Author
03 Nov 2012 06:42
-
03 Nov 2012 06:55
#1
by

dandjcr
dandjcr created the topic: Mine accident: squashed Oka
Forum Home > On the Road > Mine accident: squashed Oka
Hal Harvey
Site Owner
Posts: 510
Does anybody know the story behind this one? I've heard a couple of versions - one of which belongs in the urban myth category, unless it's true of course! - also if anybody has the original pics and can share more than this, it would be interesting to see them... these are evidently photos of photos, so some scans of the originals would be nice to have for the site.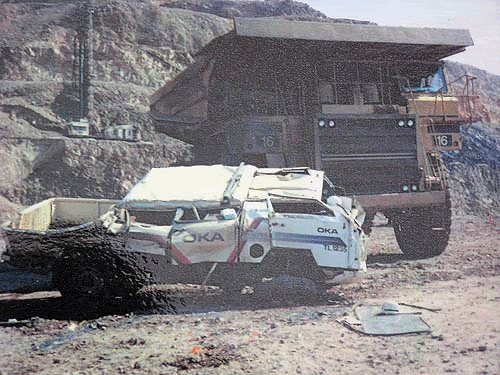 --
Hal
June 16, 2010 at 11:11 PM Flag Quote & Reply
Aussie Bight Expeditions
Member
Posts: 109
Hal,
I too have heard this but never seen photos. The version I was told was it was night time at the mine site a 2 people parked near the tip face and went to sleep. They changed tip area the tipper backed up not seeing them backed into the OKA. If they had been in anything else the 2 people would have been killed or so the story goes that I heard.
Robin Wade would be the best to ask, although I heard it from a an ex miner who I think was at the mine at the time. Will ask when I get home in 5 weeks.
OKA factory surely would also have a reference to this, good add for the stature and strong structure for the ROPS cab any way.
TONY
--
June 17, 2010 at 7:37 AM Flag Quote & Reply
David Hallandal
Member
Posts: 133
The OKA involved in the Accident, It is one of 3 Multi Cab Hi Roof Utes Made By OKA for the mines in WA, I am interested in finding the 2 remaining Hi Roof Utes.
Anyone Know the where abouts of these vehicles?
I would love to restore one if I can find one at the right price.
June 17, 2010 at 8:06 AM Flag Quote & Reply
Aussie Bight Expeditions
Member
Posts: 109
Hi Daivd
I thought the 3 that went to the mines, as you say Multi cabs.
My question is, did they not have 3 seating sections behind the cab, and a little tray say where the back row of seats went in the bus configuration and my understanding is that they went underground and this is on the surface and only has 2 row of seats in the back not the 3 rows? or have I been told a lie once again.
Tony
June 17, 2010 at 12:48 PM Flag Quote & Reply
David Hallandal
Member
Posts: 133
Twin set of rear windows I think It is the hi sides on the ute that makes the tray look short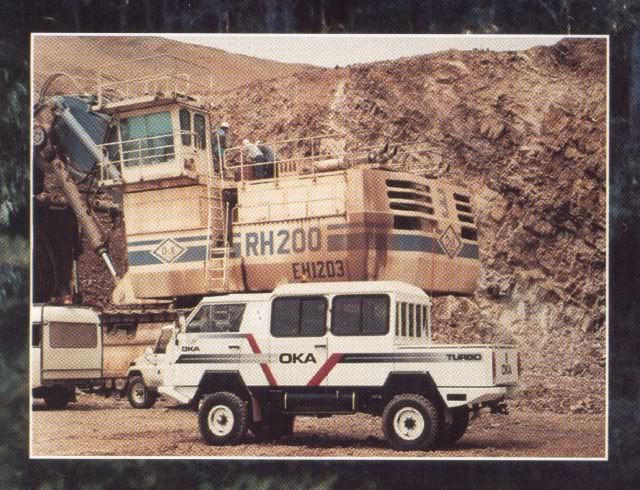 June 21, 2010 at 6:28 PM Flag Quote & Reply
Hal Harvey
Site Owner
Posts: 510
Robert Williamson (OKA 248, Beverley WA) rang today with the story on the one at the top. The accident occurred at Argyle diamond mine, in WA's Kimberley, in the early or mid '90s. It was a simple incident really, a combination of things that didn't end as badly as it easily could have.
Argyle runs 24 hours, and at a 3am shift change, those involved are meant to meet up at a floodlit changeover point. The Oka was parked on the dark side of the floodlight, and was occupied by a man and a woman (and if you want to elaborate on that part of the story, you might arrive at the myth (or maybe not) part I was alluding to originally); and unfortunately for them, the Haulpak driver arriving at 3am decided he needed a leak, so he also backed up to the dark side of the area so that he could relieve himself in private.
Very fortunately, he felt the bump - I expect the Haulpak must have been empty - and didn't keep going. The woman suffered a broken pelvis, and the other occupant was only bruised up.
While maybe an extreme example of the benefits of the ROPS cab structure of an Oka, it's certainly true that it's really pretty hard to come to grief in an Oka. The company spent a lot of money getting that certification, and the heavy construction has definitely saved a few lives in its time. Oka is believed to be the only production vehicle in the world to have this level of inbuilt protection.
Robert also said that to his knowledge, there have been two Okas cleaned up by trains in Western Australia - and statistically, that would be a remarkably high proportion given the relatively small number on the road! In both instances, everybody survived. So while we sometimes wish our Okas were a tonne lighter, maybe one day we'll be glad they aren't.
--
Hal
June 23, 2010 at 11:57 PM Flag Quote & Reply
Hal Harvey
Site Owner
Posts: 510
June 24, 2010 at 12:25 AM
Last Edit: 03 Nov 2012 06:55 by
dandjcr
.
Please Log in or Create an account to join the conversation.