Burswood 4x4 Show in Perth
dandjcr

Topic Author
02 Nov 2012 21:43
#1
by

dandjcr
dandjcr created the topic: Burswood 4x4 Show in Perth
Forum Home > On the Road > Burswood 4x4 Show in Perth
Hal Harvey
Site Owner
Posts: 510
If any of you are going to the WA 4WD & Outdoor Show in the Burswood Dome (Perth) this weekend, you get to vote for your favourite 'Show'n'Shine' public entrant... and your vote would be appreciated! The Harvey bus is there with trailer.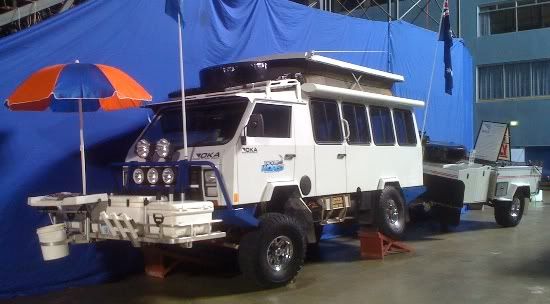 --
Hal
July 15, 2011 at 9:27 PM Flag Quote & Reply
Aussie Bight Expeditions
Member
Posts: 109
Hal
How did you go at the show?
Were you there for the camping trailer promo part or your tackle or the blue beast, in all its glory. I assume it would of attracted a fair share of attention for what ever the reason was that you went for
ABE TONY.
--
July 17, 2011 at 1:19 PM Flag Quote & Reply
James & Usha (THEByleDuct)
Administrator
Posts: 161
How did it go Hal. We couldn't make it due to work commitments but we were barracking for you from the sidelines
--
OKA #072
July 17, 2011 at 3:53 PM Flag Quote & Reply
Hal Harvey
Site Owner
Posts: 510
Just home now after packing everything away. Didn't win but got lots of nice feedback, which doesn't hurt. I was primarily there to show off the Oka - got a pile of brochures from the factory on Friday and they all went by mid morning today, so I hope that sells them one or two. Would be nice. The trailer was there because I thought it added to the display and I put out some promo material for that manufacturer too, and that all went, though not as fast as the Oka info. And a Bluewater Tackle World sticker on the door in case anybody noticed! All good fun.
--
Hal
July 17, 2011 at 9:07 PM Flag Quote & Reply
joseph baz
Member
Posts: 332
Good display Hal,we didn't make as we got back from holidays sunday night,did you had many genuine enquires regarding the beast?
Cheers,Joe
July 19, 2011 at 7:53 PM Flag Quote & Reply
Hal Harvey
Site Owner
Posts: 510
I didn't hang around Joe, just left it as a static display. I did sit in the bleachers with a camera for a while to see how people react, and the Oka was definitely the drawcard, not the trailer. There was also a lot of positive feedback on the Perth 4x4 forum at the time too. Genuine enquiries? Very hard to say. Some could be people like me who decided on an Oka at a 4WD show in the mid '90s, then bought it a couple of years later!
By the way, welcome back, we've missed you! Now get some work done on that truck.
--
Hal
July 19, 2011 at 8:13 PM Flag Quote & Reply
joseph baz
Member
Posts: 332
Well,the new engine and transmission arrived in Freo yesterday so I think it will be out in a couple of days,then it will be non stop work.........I think!,did a bit of work sorting the wiring before I left......nearly done.....i think is 1.275 million cables...or I maybe out by one or two,will keep you posted
cheers,Joe
July 19, 2011 at 9:11 PM
Please Log in or Create an account to join the conversation.