Ignition-switched power source
dandjcr

Topic Author
01 Nov 2012 12:24
#1
by

dandjcr
dandjcr created the topic: Ignition-switched power source
Forum Home > OKA Maintenance > Ignition-switched power source
Hal Harvey
Site Owner
Posts: 510
I need to get power to electric seats and daytime running lights, both of which need power that only gets to them when the ignition is on. Does anybody have any suggestions where on an LT this power should be sourced from?
I've peered at the fuse box next to the glovebox, but it doesn't appear to lend itself to having accessories run off it. The seats will draw a fair bit of power - they each have a 20A fuse - the DRLs, not so much.
Hopefully somebody can get me started. It might end up with Rod Lyons to get a professional job done, but I wouldn't mind getting everything started myself.
Thanks
Hal
June 6, 2010 at 1:21 AM Flag Quote & Reply
David Hallandal
Member
Posts: 133
I found one some time ago, Give me some time today and I will trace it back to its source and I will let you know where to pick it up from, Once you have an Ignition Power source then you use it to run a relay for your other requirments
David
June 6, 2010 at 8:06 AM Flag Quote & Reply
Aussie Bight Expeditions
Member
Posts: 109
If you look at the main electrical management relay and ignition supply system you will find all the places you need. That is behind the passenger seat in the tray system. there are 4 bolts to undo and you find everything that you need. Most people do not realise that there are 2 supply units not one as their cars also have one inside, main supply box and relay and major supply is usually under the bonnet. OKA just put it behind the seat in a nice dry spot.
Regards Tony
June 6, 2010 at 8:11 AM Flag Quote & Reply
Hal Harvey
Site Owner
Posts: 510
Thanks guys,
I hadn't really wanted to get into that box behind the seat Tony, but I had a feeling I was going to have to... the discouraging bit was that when ARB did the air lockers thing and put their little compressor in, the rocket scientist that did it cut a hole straight though the lid and made it so that you can't take the lid off...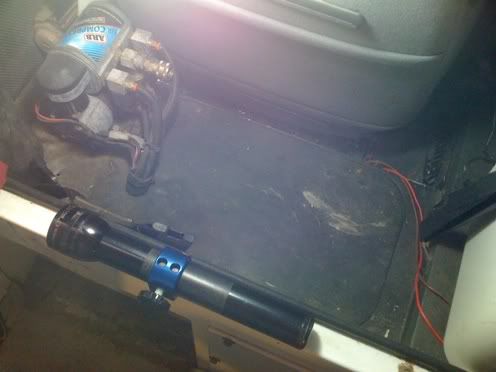 ... but it's not that bad, I guess, I can manoeuvre it far enough aside to get in... and after a bit of playing around with a test light, I came across this handy unused terminal that is a ready-made source for switched power. I guess I'll do the right thing and set it up to a relay like you say David. It's a stand-alone heavy pink wire; somebody let me know if it's meant to be connected to something critical please!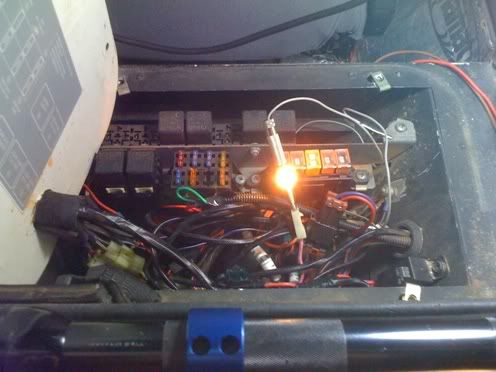 Getting power from there to the seats will be easy enough, but getting it from there out through the front to the lights was going to be more trouble than it deserved; so I got in under the dash with the test light, and found a few empty terminals; and interestingly, all three of the three pink-wired ones I found were ignition-switched power. There could be a message there. The two DRLs combined should be less than 3A, so a relay would be unnecessary there; I've just run the power straight from one of those under-dash terminals.
--
Hal
June 7, 2010 at 12:11 AM
Please Log in or Create an account to join the conversation.